| | | |
| --- | --- | --- |
| Canine Boarding Facility Offering: | | Standard Boarding Includes: |
| | | |
| Climate-Controlled Environment | | Breakfast and Dinner |
| Central Air Conditioning | | Iams & Eukenuba Diets |
| Radiant Heated Floors | | Additional Biscuits & Treats |
| Skylights | | Plush Bedding |
| Ten Flat-Screen Televisions | | Large Runs for Indoor Exercise |
| Classical Music Playing 24 hours | | 24/7 Monitoring on Closed-Circuit Screens |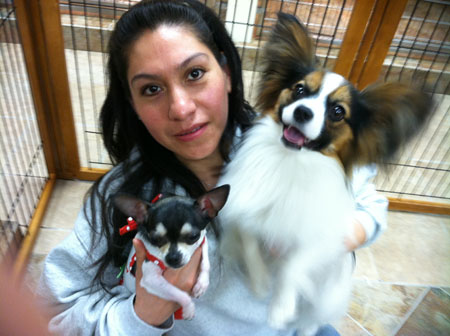 Requirements for Dog Boarding
Admissions: The minimum age for boarding your dog is 6 months of age, and we do not board dogs over 9 years of age unless they have been staying with us on a regular basis.
Note: We are not equipped to handle all of the dog breeds and reserve the right to refuse service for temperament or health reasons. Please call to discuss any extensive medical conditions, or if you might feel that your dog may be of questionable temperament. If pet is recently adopted, please call for specific requirements.
Vaccinations: Inoculations given under 16 weeks of age are not acceptable, and the vaccines we require include: Bordetella, Distemper/Parvo, and Rabies, all of which must be given at least 7 days and not more than 1 year prior to arrival.
Belonging: We are not responsible for your petís personal possessions such as - own beds, bones, toys, etc. We will provide our bedding and toys at no additional charge.
Extra Programs & Activities: Large, indoor runs aside, there are a number of additional options should you wish for your pet to receive additional exercise and special attention.

Pampered Pet Care: In addition to the individual attention our guests receive, we offer Pampered Pet Care and a variety of exercise programs to those clients eager for extra special care during their petís stay. This service provides further exercise and play, as well as any special requests our guests may have. Our Pampered Pet Care includes:
One-on-one playtime with a member of our staff, indoors or outdoors.

Completely personal attention, using both our own equipment, toys and an items you may have provided for your pet.

Monitored on closed-circuit television.
Outdoor Exercise: A Large, fenced-in outdoor area equipped with toys and obstacle course.
Deluxe Program: Combination of Outdoor Exercise and Pampered Pet Care.